The Glamorous History of Dublin's Lost Department Stores
September 7, 2020
by admin
Comments Off

on The Glamorous History of Dublin's Lost Department Stores
The history of the department store is inseparable from the history of the modern city, and Dublin is no different. Both grew in parallel with the growth of the middle classes in the city. Grand Magasins began in Paris, places of conspicuous consumption that provided women with a place to socialise in safety, unchaperoned.
While we thankfully still have Brown Thomas on Grafton Street and Arnotts on Henry Street, the city had quite a number of department stores that are now sadly no more. You may have heard of Switzers and Clerys but have you heard of McBirneys of Aston Quay and Todd Burns of Mary Street?
These stores were the very epitome of style and glamour in the 19th and 20th centuries. Here, we give you a short history of three of the lost department stores of Dublin.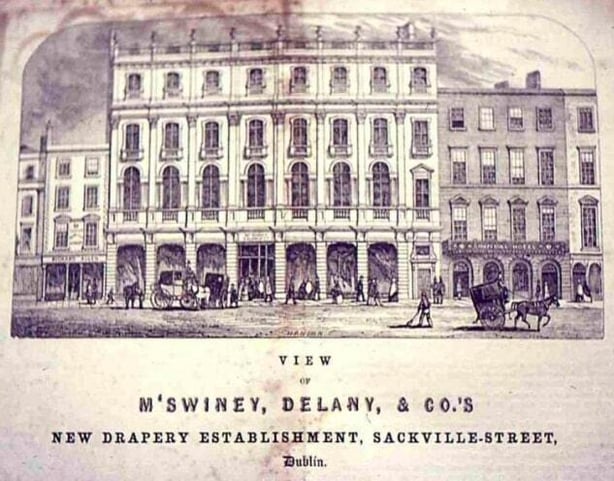 Clery's – the "palatial monster mart"
Clerys may have only closed its doors very recently but its history is a dramatic tale of the highs and lows of fashion in the city. The store began life in 1853 as McSwiney, Delaney & Co., and was in fact one of the very first purpose-built department stores in Europe, pre-dating even the famous Le Bon Marche in Paris.
The shop replaced five drapery stores and was a large, sumptuously ornamented Victorian department or 'monster' store, (monster indicating its size), five stories tall, with six display windows opening onto Sackville Street (now O'Connell Street).
Inside there was a "great centre hall", which was lit by natural light from above, while around it were galleries supported by Corinthian columns and reached by sweeping staircases.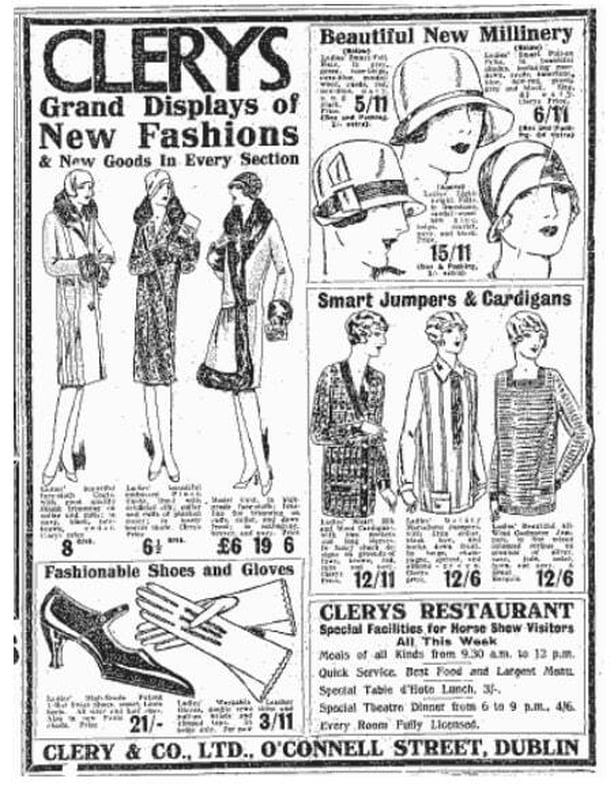 As a draper and haberdasher, McSwiney's sold the very latest and most in-demand Victorian fashion must-haves, mainly fabrics and silks as shopping for fashion at this time meant buying the fabric and trimmings which you would later recreate your look with at home or with a dressmaker.
Just like today as we look to Kate Middleton and Meghan Markle for style inspiration, Queen Victoria was the fashion influencer of the time and ladies would reference illustrations and fashion plates of her style and replicate the look with fabrics and trimmings from a drapery store.
Working at McSwineys was a much sought after job in the city because shop assistants lived on-site, which they did until the early 20th century. Their sleeping quarters, along with a refectory and a library for the staff's use, were located on the upper floors of the building. This meant the employee could save on rent and for the employer, their staff were always on time for work.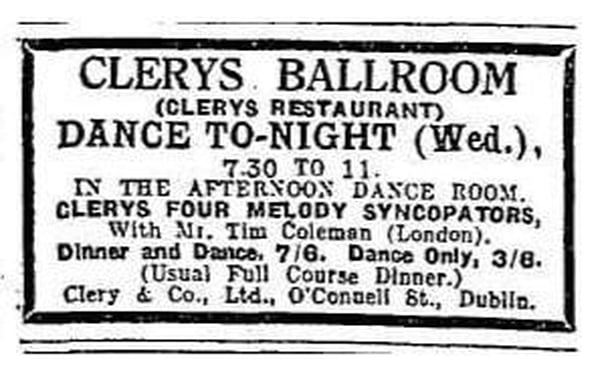 The store fell on hard times in the 1880s and was bought by Michael Clery, William Martin Murphy and James Fitzgerald Lombard. They renamed it Clery & Co. and were open for business by Christmas 1884.
William Martin Murphy was the most powerful businessman in Ireland at the time, and over the coming decades, Clery's would be the flagship of his empire, which included Dublin's tram system (that conveniently brought his customers from the suburbs to the door of the shop) as well as the Irish Independent newspaper.
Clery's was still under Murphy's control when it was completely destroyed by fire during the 1916 Rising, located just across the road from the GPO. An eyewitness claimed to have seen Clery's elegant plate-glass windows melting in the heat of the flames.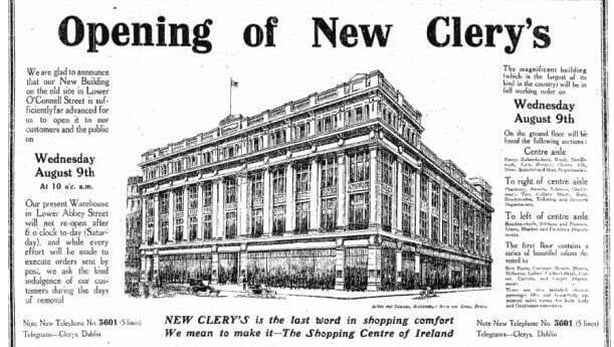 Despite this, only a few weeks later, in June 1916, the store opened temporary premises in the Metropolitan Hall on Lower Abbey Street and began trading again. The store was rebuilt in magnificent art-deco style and reopened again to great fanfare in 1921.
At this time Clery's sold ladies fashions and dresses, millinery, men's hunting and shooting items, sports equipment, travel accoutrements, home items, wireless radios and furniture, food, chocolate and more.
But it wasn't just the latest fashions you came for. The magnificent store was a destination for entertainment, too, with fixtures designed to draw you in.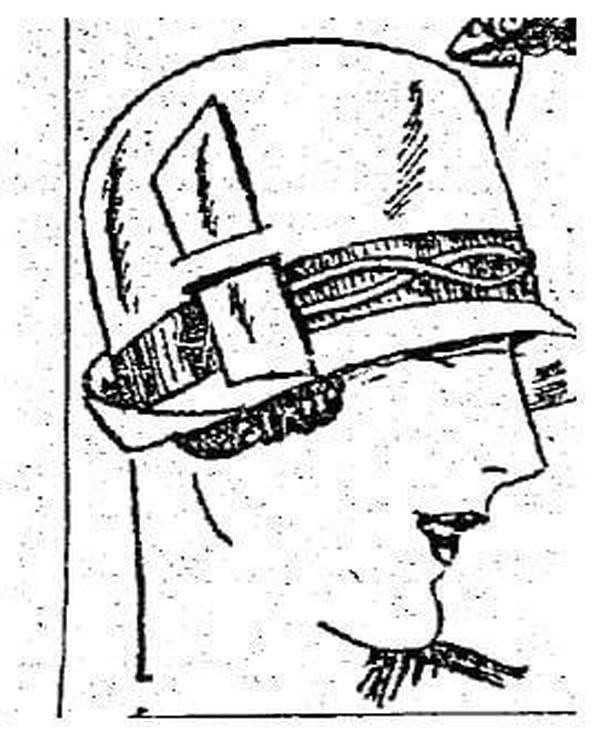 "At Clerys you have nearly everything you need, within the magnificent interior there are more than 50 departments and townships of shops each selling goods of the highest quality," goes film footage of the store from this time. Aside from the 34 expert buyers, the mechanical Jambo (a moving elephant display) was "as popular as any elephant in Dublin Zoo".
But it wasn't until John Maguire, the store's flamboyant manager, was brought in that the location truly started to grow. In 1930, Maguire placed a Gipsy Moth biplane on sale in the store and ran a wildly popular lottery for customers to take a free flight over Dublin.
For many, "under the clock at Clerys" still stirs romantic visions of couples meeting for their dates, and the clock is still a popular meeting point for many. It is where many Dubliners' love stories began during the mid 20th century.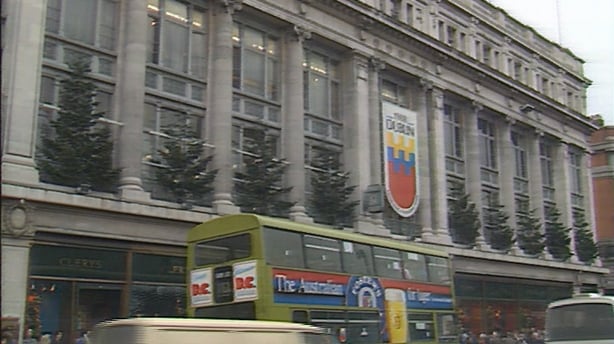 Thanks to the exciting attractions along O'Connell Street, from the Carlton and Savoy cinema, dances at the Metropole and the Gresham hotels as well as theatre at The Abbey and the Theatre Royal just across the Liffey, it was the place to be in 1950s and 60s Dublin.
Not only that, but Clery's had a ballroom where you could dance the night away to the orchestras and bands of the moment.
Now, Clerys is to be a 176 bedroom hotel, retail and office space which will see the restoration of the store's iconic features, including its façade, internal staircases, columns and its famous clock. Here's hoping it brings a new chapter of style and romance to the street and to our lives.
McBirneys of Aston Quay, playground of aristocrats
You might remember this hugely popular store as the eventual location of Virgin Megastore or SuperValu, but until it closed in 1984 McBirneys was one of the buzziest stores in Dublin, famous for being only 40 paces from O'Connell Street – their advertising catchphrase.
The glamorous store weathered storms through pre-independence, through the war, and eventually boomed again after World War II, helped by the business's military tailoring department doing a roaring trade in uniforms.
But in the early 20th century it was a popular destination for the aristocracy of the country who came from all over the country to visit the fashion floors, which had an orchestra playing every afternoon to amuse and entertain customers.
By the mid 20th century their annual Christmas window displays and visits to Santa at McBirney's became standout memories of the store.
It wasn't just a glamorous affair for the shoppers, either. When it was closing a staff member remembered his early days in the business in the glitzy 1930s: "When I started here 50 years ago the staff in the ladies department wore long gowns with trains. And, of course, I was mesmerised by this."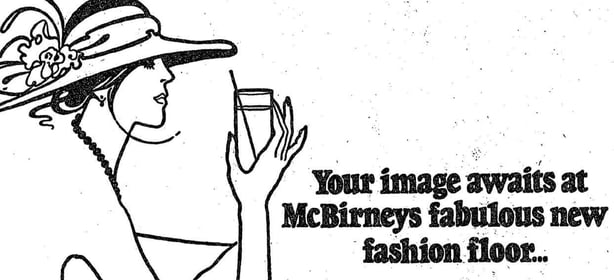 "The dowagers [aristocratic ladies] would come in and the supervisors would rush over with a chair for them. The dresses would be brought out for them to see, even gloves were fitted on for them, each finger was fitted. There was no such thing as just handing a customer a pair of gloves. To me, it was just another world."
The street would be lined with "coaches of the gentry", he added. "Of course, they didn't shop like they do now, they were attended to everywhere they went into the shop. There were three musicians on the first floor who played every afternoon. Finally, a porter would call the coach when the lady was ready and she'd be collected."
Unfortunately, this way of shopping had become out-dated by the 1980s and it was reported in the press that "McBirneys in many ways is a shop that belongs to another era, it has been passed by Penneys and Dunnes, it still offers a personalised service, it's the kind of service customers don't want anymore."
What's ironic about this, which so often happens with fashion, is that this is just the kind of old-school service which would be incredibly popular now, taking down the pace of shopping and having an amazing service and experience is now very in vogue.
Todd Burns, the "palatial warehouse"
If Clearys was the monster mart, Todd Burns was the decidedly grand "palatial warehouse", as described during its golden years.
You'll no doubt already be familiar with their glorious red brick building with copper dome on Mary Street, now the Penneys building, but it was originally built as Todd Burn's department store in 1905, with the business in existence since 1834.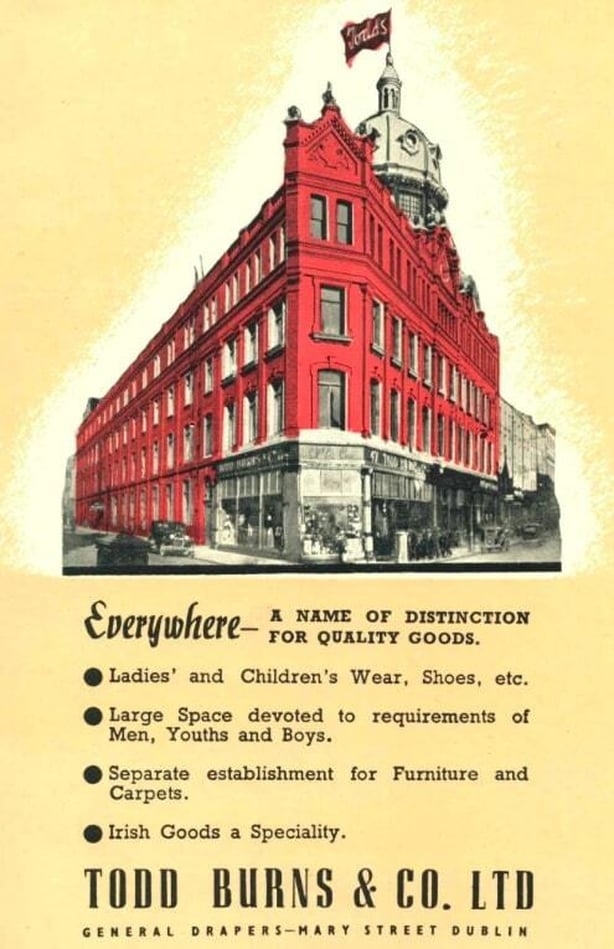 They found fame for fashions and house furnishings. As was quite often the case the company was listed in Thoms' Dublin Directory as – take a deep breath – "silk mercers, shawl men, linen and woolen drapers, tailors, hatters, boot and shoemakers, upholsterers, carpet warehousemen, cabinetmakers, haberdashers, hosiers, glovers, jewellers…"
It boomed as shopping habits changed in the Edwardian period, and became known for its readymades and made-to-order business. The hook to this was you could shop via their catalogue and get your purchases by post, meaning customers all around Ireland could shop there.
Before that, shopping was all about selecting fabrics and trimmings from drapers and haberdashers and either making your clothes yourself or having your look created for you by a dressmaker.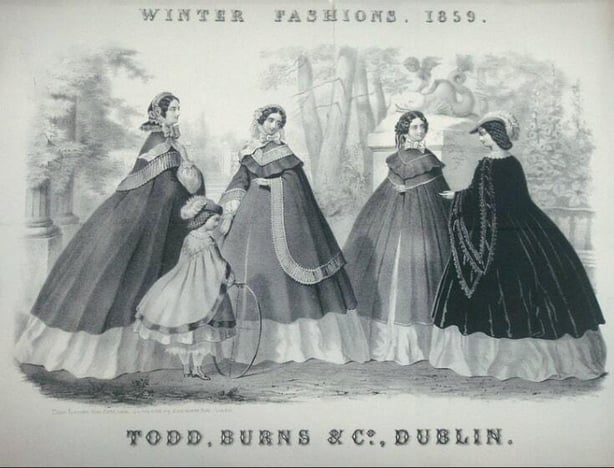 Readymades were being produced from the mid 19th century onwards and you could purchase coats, cloaks, shawls and dressing gowns as they were worn loose and would fit a variety of sizes. The readymade trade gradually expanded to blouses, petticoats and "outfitting" (the euphemism used for men's and women's underwear to avoid everyone's blushes) and it has grown into the fashion business model of shopping ready to wear we know today.
With this in mind, it's interesting to see that a shop providing trend-driven fashion at an affordable price still continues in the same store with Penneys today.
Subscribe to Garda-Post
Follow Garda-Post on LinkedIn and Twitter for other relevant updates
You can also find us on Facebook
Article from https://www.rte.ie/lifestyle/fashion/2020/0902/1162842-the-glamorous-history-of-dublins-lost-department-stores/