14 Great Irish Sportsmen
September 24, 2019
by admin
Comments Off

on 14 Great Irish Sportsmen
There's been no shortage of Irish sporting heroes down through the years, and to follow on from our list of the greatest female athletes ever to come out of the Emerald Isle, here's our male equivalent in no particular order.
George Best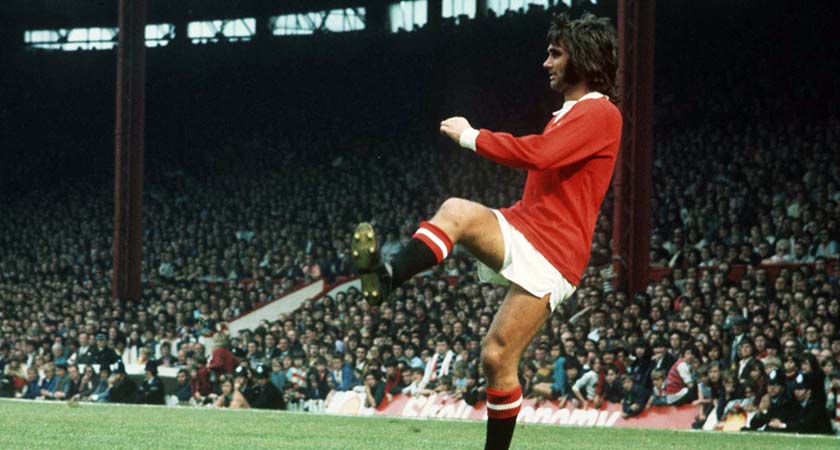 George Best in 1972 playing for Manchester United.
George Best is universally regarded as one of the best ever footballers alongside the likes of Pele, Diego Maradona and Johan Cruyff. A tricky and skilful winger, who managed 137 goals for Manchester United and nine goals on the international stage for Northern Ireland, Best peaked early in his career. Yet despite arguably achieving less in his playing career than he promised early on, the 1968 European Cup winner will always be remembered as one of the most talented sportsman the Emerald Isle has ever produced.
Brian O'Driscoll
Brian O'Driscoll is seen as one of Ireland's true sporting treasures as he conducted himself with pure class both on and off the pitch. He holds the record of being the most capped rugby union player with 141 Test appearances (133 times for Ireland and eight times for the British and Irish Lions). Arguably, he was at his best in an Ireland shirt, but three Heineken Cup wins ensured him as a club legend to Leinster fans.
Henry Shefflin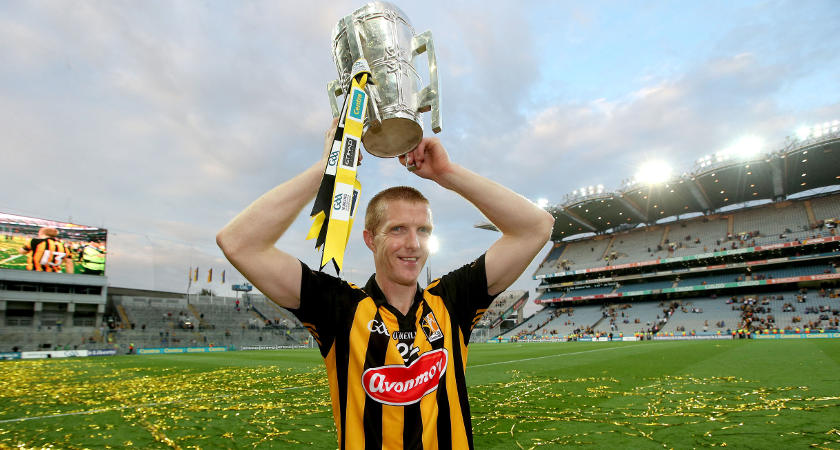 Henry Shefflin celebrates with The Liam McCarthy Cup in 2014 Kilkenny hurling legend Henry Shefflin made an incredible 71 championship appearances during a golden era for the Cats. In that time he won 13 Leinster titles, 10 All-Ireland Senior Hurling Championships, six league titles and 11 All-Star awards. With 27 goals and 485 points, Shefflin is the top championship scorer of all time. He is the perfect example of a text-book hurling forward and, as such, he is widely regarded as the best ever to play the game.
AP McCoy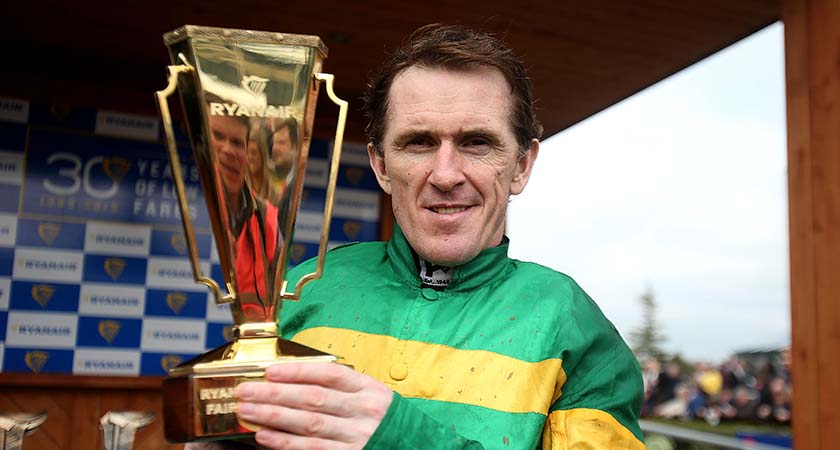 McCoy with the Ryanair Gold Cup after winning on board Gilgamboa McCoy won almost everything in his path, most noticeably the Cheltenham Gold Cup and the Grand National, as well as being a 20-time champion jump jockey. Throughout his career, McCoy won a remarkable 4,348 jump races and nine flat races. His exploits as well as his warm persona earned him the BBC Sports Personality of the Year award in 2010, becoming the first jockey to win it. He also won RTÉ's Sports Person of the year in 2013 and recently received a lifetime achievement award at the BBC's Sports Personality of the Year ceremony for 2015.
Paul McGrath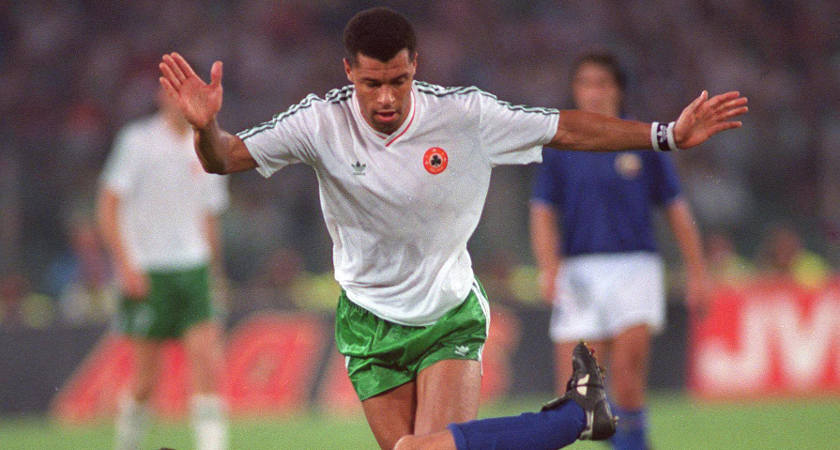 Paul McGrath played in three major tournaments for Ireland. Although his career was greatly hampered by injuries and off-field personal problems, Paul McGrath made a reputation for himself as a tough tackler and a brilliant reader of the game. McGrath is often regarded as the most influential player Ireland had during the national team's glory days during the country's first major tournament appearances at the European Championships in 1988 and the World Cup in 1990. By the time Ireland's 1994 World Cup campaign came around, McGrath was still one of Ireland's most important players, and his performance in the 1-0 win over eventual finalists Italy will live long in the memories of Irish sports fans.
Steve Collins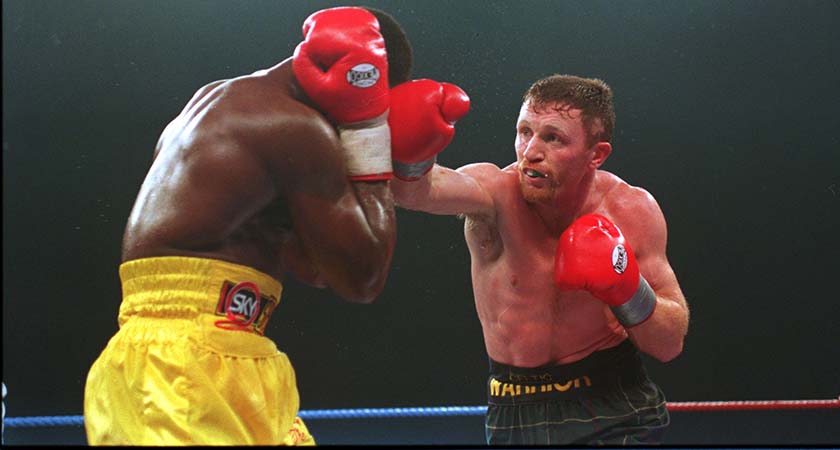 Collins, right lands a punch on Chris Eubank in Millstreet, Ireland. Former WBO middleweight and WBO super-middleweight champion Steve Collins' boxing career was impressive to say the least. Arguably Ireland's finest ever pugilist, he ended his career with a record of 36 wins – 21 of which came by knockout – and just three losses. In the peak of his career around the mid 1990s, a very public rivalry formed between British duo Chris Eubank and Nigel Benn, yet Collins fought and beat both men twice.
Alex Higgins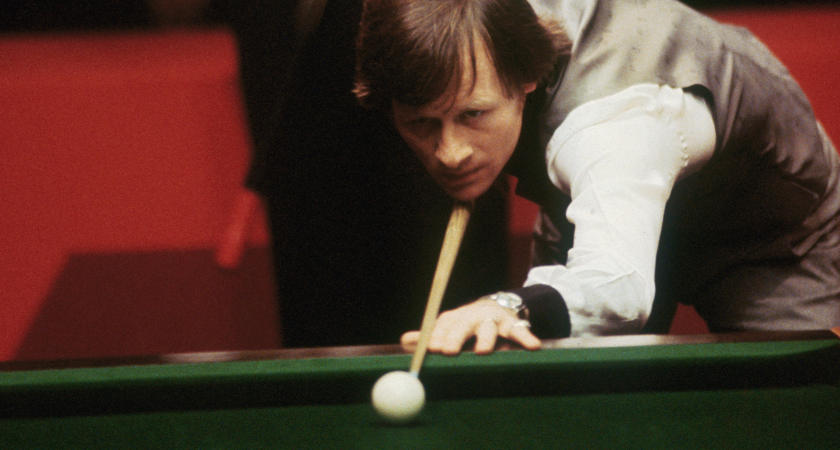 Alex Higgins in action in his prime Alex Higgins was a Snooker World Champion twice – in 1972 and 1982. The 'Hurricane', a nickname derived out of his exciting speed around the table, also won the 1983 UK Championship as well as the Masters in 1977 and in 1980. He also recorded a break of 147, the maximum possible in snooker, in the 1985 British Open. Higgins became World Doubles champion with Jimmy White in 1984, and won the World Cup three times with the All-Ireland team, making him one of the sport's star attractions during the height of snooker's popularity throughout the 1980s. Many of snooker's subsequent stars, such as Ronnie O'Sullivan, Ken Doherty and his friend Jimmy White, have cited Higgins as an inspiration.
Roy Keane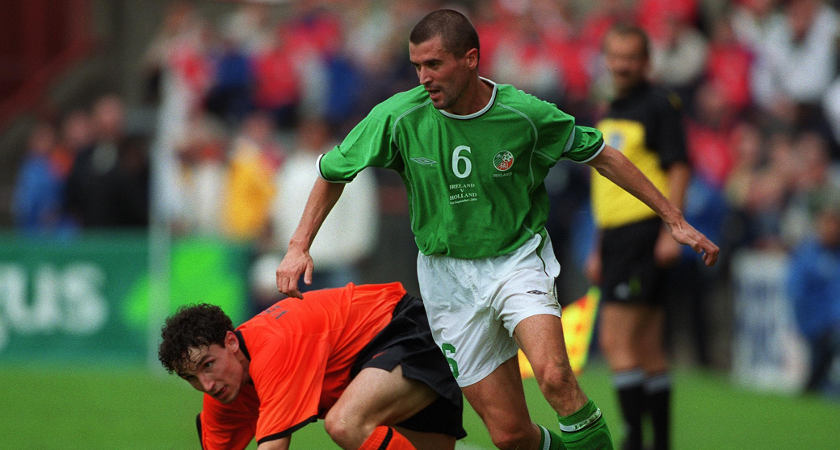 Roy Keane's performance against Holland in 2001 is one of the greatest ever in a green shirt [Picture: Inpho] Some might say Roy Keane is one of the best players ever to play soccer for Ireland. At the height of his career he was up there with the best midfielders in the world courtesy of his outstanding performances for Manchester United and Ireland, particularly against Holland in 2001. It still hurts that he didn't feature in the 2002 World Cup for his country after heading home before the group stages following a well-documented internal dispute. Mick McCarthy's men performed admirably in his absence, but they would never have qualified in the first place if it weren't for Keane.
Robbie Keane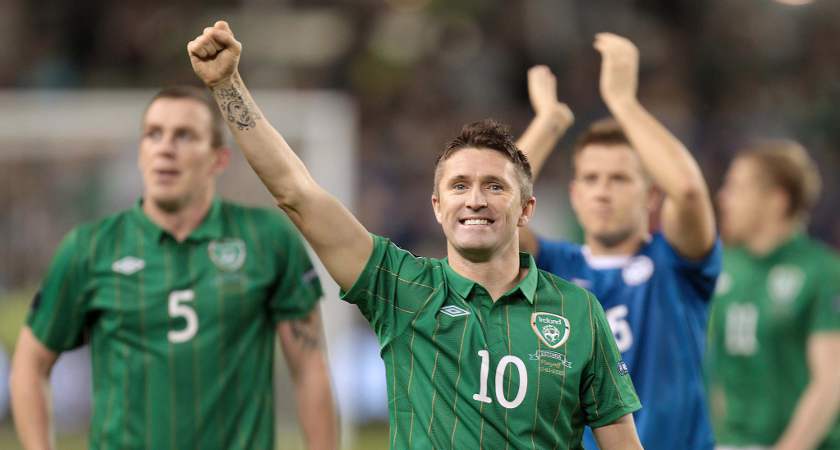 Robbie Keane celebrating Ireland's qualification for Euro 2012 [Picture: Inpho]Robbie Keane has come to the rescue for his country many times throughout his career and is still involved with the Republic of Ireland playing squad at the age of 35. He holds the record for the most goals scored for Ireland (currently 67) and the most international caps (currently 143). Keane has captained the national side with pride and built a fine career on his ability to to create chances out of nothing on top of being a gifted, hard-working forward.
Paul O'Connell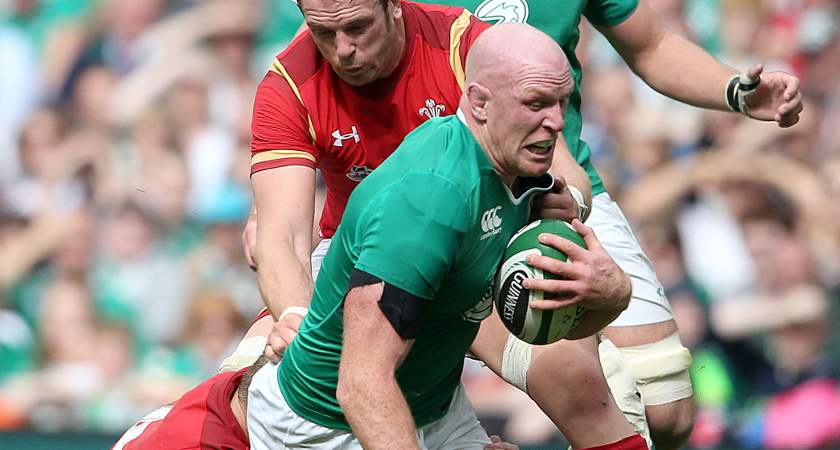 Paul O'Connell joined Toulon after the Rugby World Cup [Picture: Inpho]Although now in the twilight of his rugby career, Paul O'Connell is still recognised as a strong tackler with an excellent work rate. Having put his body on the line for club and country time and again, O'Connell's list of honours include two Heineken Cup wins for Munster and three Six Nations triumphs for Ireland. He's now retired from international rugby, but he will always be remembered for his team spirit, influence and work ethic in an Ireland shirt.
Liam Brady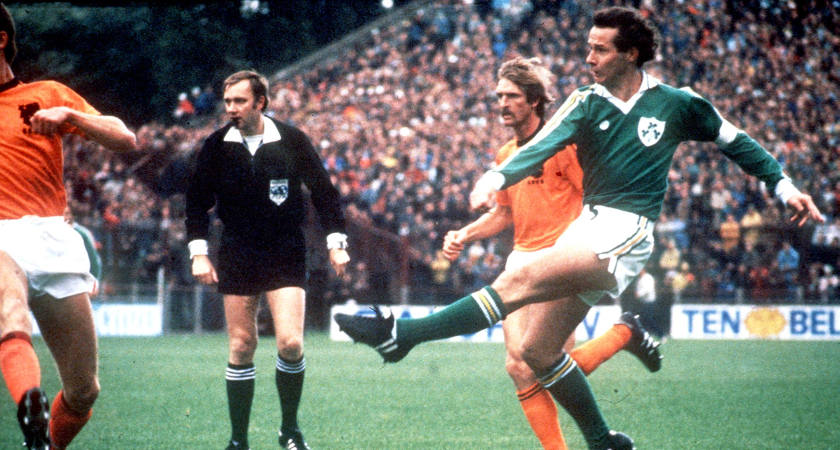 Brady in action against Holland in 1980 [Picture: Inpho]Liam Brady had a successful international career, playing 72 times for Ireland and scoring nine goals, but his exploits at club level is what he is most known for. He won the FA Cup with Arsenal and two Serie A titles with Juventus, bringing a Continental-style flair to the Republic of Ireland set-up in the process. During his career, Brady was known for his elegant technical skills, most notably his left foot, plus his high-quality passing and close control.
Barry McGuigan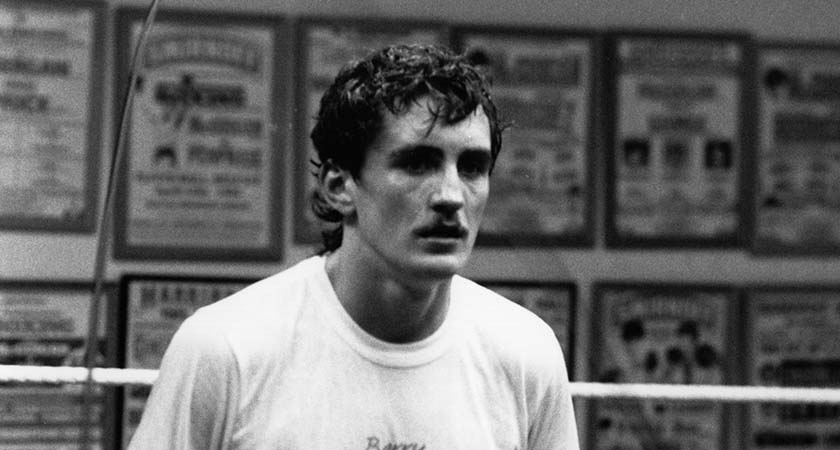 Barry McGuigan in training (Photo by Express Newspapers/Getty Images)
Barry McGuigan, known as 'The Clones Cyclone', is another great Irish boxer to make our list. McGuigan's biggest career achievement was winning the WBA featherweight title in front of 26,000 people in Loftus Road in London, beating Eusebio Pedroza of Panama in 1985. However, he is also fondly remembered for embracing both sides of his Catholic and Protestant support during troubled times in Northern Ireland, where he was based during the height of his career.
Pat Spillane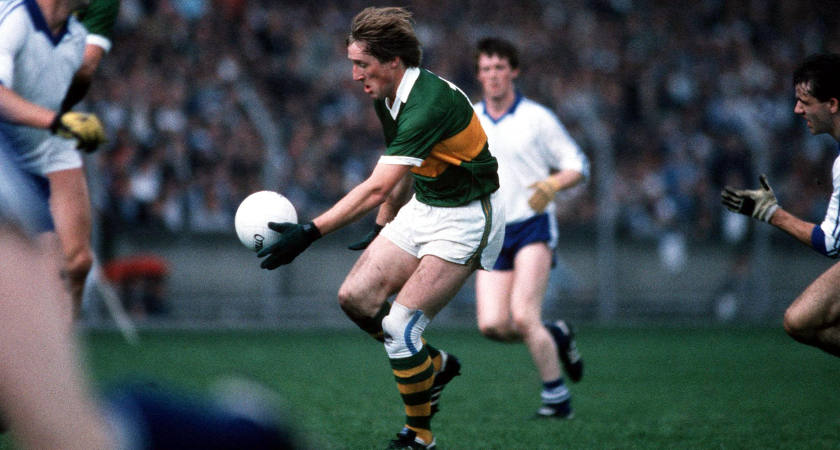 Spillane in action for Kerry against Monaghan in 1985 [Picture: Inpho]As with many retired athletes who go into punditry after playing, Pat Spillane divides opinion. However, looking at his achievements in Gaelic football, there can be no denying that he is indeed one of the all-time GAA greats. His feat of nine All-Star awards is still a record in Gaelic football, while eight All-Ireland medals for Kerry is a jaw-dropping haul, not to mention the 12 Munster titles he won for the Kingdom during a career spanning from 1975 to 1991.
Stephen Roche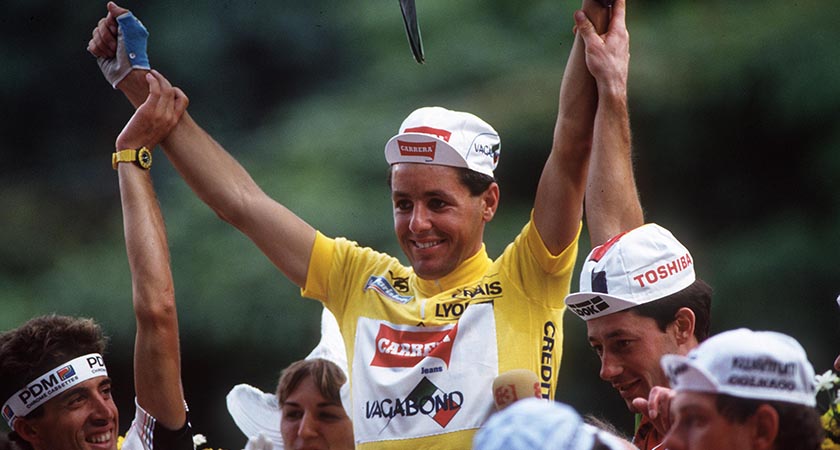 1987 Tour de France – Stephen Roche celebrates winning the tour [©INPHO/Billy Stickland]Having won the 1987 Tour de France – without doubt one of the toughest physical tests in sport – Stephen Roche was the poster boy amid a glorious era for Irish cycling. Indeed, that year was a phenomenal one for the Dubliner, as he also became only the second man to complete cycling's triple crown – the Tour de France, the Giro d'Italia and the World Road Race Championship all in the same year. Although the latter years of his career were blighted by allegations of EPO use, Roche wholeheartedly denied such claims and his achievements still stand as no prosecutions were ever brought.